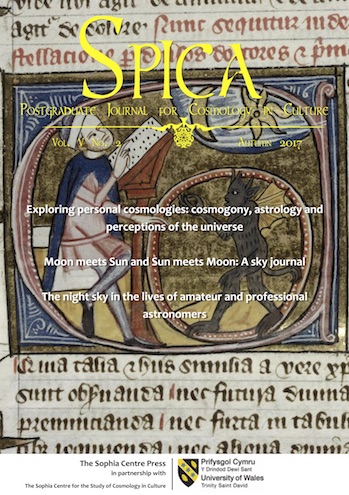 The study of cultural astronomy and astrology has at its core the recognition of the many ways the sky is understood and responded to across history and culture. So important is the value of reading the sky according to particular cosmological ideas to any culture that it can even be seen in the illuminated character of the medieval manuscript shown on the cover. In this case, the appearance of a devil at the astrologer's side reveals a lot about the attitude towards studying the sky astrologically at the time.
Contemporary views of the sky are illustrated by the papers in this issue. Nicole Montag-Keller journals a very personal response to the sky and its relationship to identity and personal cosmology. Jessica Heim also reports on personal responses to the sky, but from people who observe the sky on both the amateur and professional levels, and discovers their contemporary concerns. And Christopher Layser, in the first paper in this edition, undertakes qualitative research of a specific group of Americans to understand how their cultural context affects their cosmologies and in particular their view of astrology.
There could not be a more representative or more fascinating illustration of cultural astronomy and astrology 'in action'.
Exploring personal cosmologies: A qualitative investigation into cosmogony, astrology, and perceptions of the universe by Christopher Layser
Moon meets Sun and Sun meets Moon: A sky journal research report by Nicole Montag-Keller
The night sky in the lives of amateur and professional astronomers by Jessica Heim
---